Spots offering stunning views of Mt. Fuji
The Allure of Mt. Fuji's Many Expressions
Diamond Fuji and Pearl Fuji
Every year around early April and September, visitors can witness what is known as "Diamond Fuji".
Diamond Fuji is a meteorological optical phenomenon in which the summit of Mt. Fuji and the sun overlap, creating the appearance of a dazzling diamond.
From Enoshima, this alignment is at its best from around the 3rd to the 6th of April, and the 5th to the 8th of September.
Note: Depending on the weather conditions, Diamond Fuji may not be visible.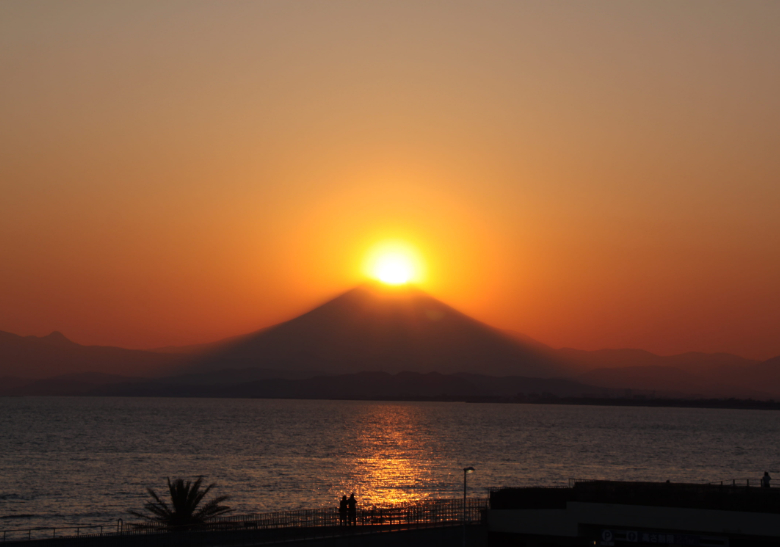 Diamond Fuji
There is another view of Mt. Fuji known as "Pearl Fuji", which can be seen when the full moon overlaps with the summit of the mountain. However, there are no set dates upon which this beautiful view can be seen. If you're lucky, you may get the chance to see it during your trip…
Aside from Enoshima, there are countless other great Mt. Fuji viewing spots.
Lots of these are in and around Fujisawa City. The names of many of these places, such as Fujimizaka, Fujimidai, and Fujimibashi, include the word "Fujimi", which means "To view Mt. Fuji".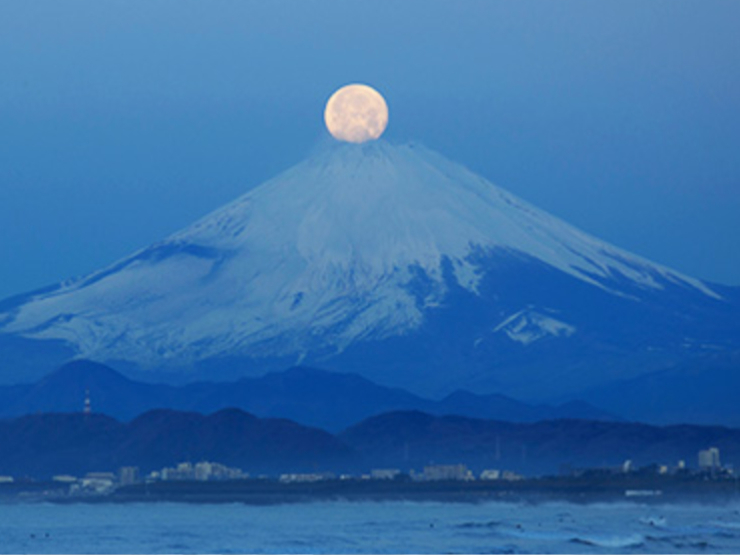 Pearl Fuji
Mt. Fuji from North Fujisawa
The open countryside of northern Fujisawa is also home to many places from which to get clear views of Mt. Fuji.
Some spots also offer the chance to get a glimpse of the bullet train at the same time as taking in views of the mountain!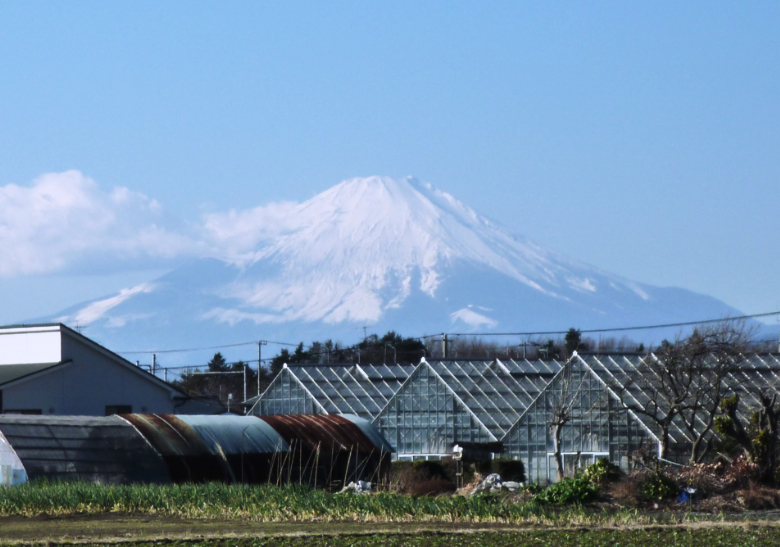 Views of Enoshima and Mt. Fuji from Inamuragasaki
The views of Enoshima and Mt. Fuji became popular in the Edo Period about 200 years ago through depictions in popular landscape paintings and ukiyo-e.
The views from the coast of Kamakura may be called one of the great wonders of the world. A relaxing drive down Highway 134 along the coast from Kamakura to Enoshima is a great way to enjoy the beautiful scenery of Mt. Fuji. And for those desiring a romantic trip, the evening silhouettes of Enoshima and Mt. Fuji are not to be missed!