Lying next to the ocean, Enoshima and Fujisawa offer a wide range of marine-based activities.
Alternatively, why not experience learning how to make sushi, complete with English language guidance,
or take part in some of the many Japanese cultural activities on offer?
People of all levels are welcome to join, so please come along and give them a try!
Water Sports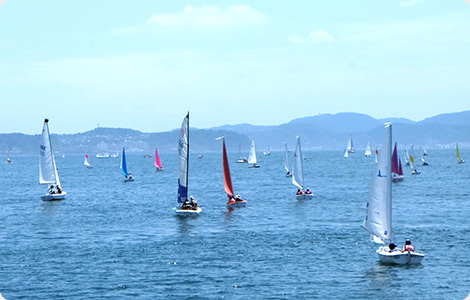 Hansa Class
At Shonan Harbor, visitors can embark upon the "*Hansa Class" yachting experience. Suitable for people with or without previous sailing experience, those who climb aboard can learn about sailing in an easy and safe environment.
* This class of yacht is very safe, does not capsize, and is simple to maneuver. Shonan Harbor will play host to the sailing competition during the 2020 Tokyo Olympics. Why not give sailing a try here ahead of this elite event?
Moreover, visitors can try their hand at SUP (stand-up paddle boarding), canoeing,
and surfing experiences offered by the following companies.
Other Activities
Aside from all the water sports, there are many other activities to get involved in.
Japanese Cultural Experiences