5 Recommend gourmet spots in Enoshima
Enoshima has many sightseeing spots and attractions,
but what kind of food do you imagine when you hear the word "Enoshima gourmet"? 
A bowl of rice topped with fresh shirasu? Enoshima rice bowl? Grilled turban shells? 
Of course, these are all well-known Enoshima specialties, but recently,
there are many gourmet restaurants that you should keep an eye out for, including the hottest names and new open restaurants.
We have visited five of the most noteworthy restaurants, so let us introduce them to you.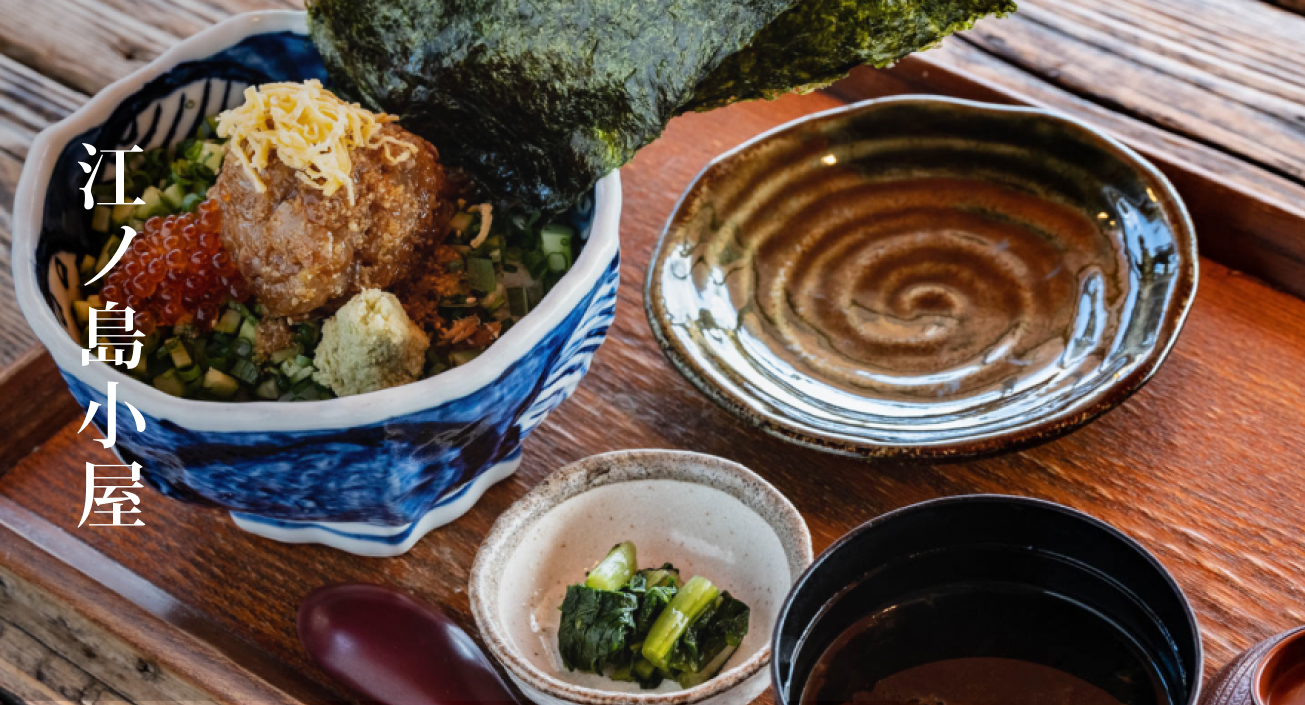 A popular teishoku-ya with a long line of costumers
Enoshima Koya
Enoshima Hut is a 5-minute walk from Katase Enoshima Station on the Odakyu Enoshima Line. This popular restaurant always has a long line of customers. The exterior is austere, but once inside the restaurant, you will find a spacious and bright space. The terrace seats overlooking the ocean are apparently very popular, and it must be pleasant to dine in such an open space.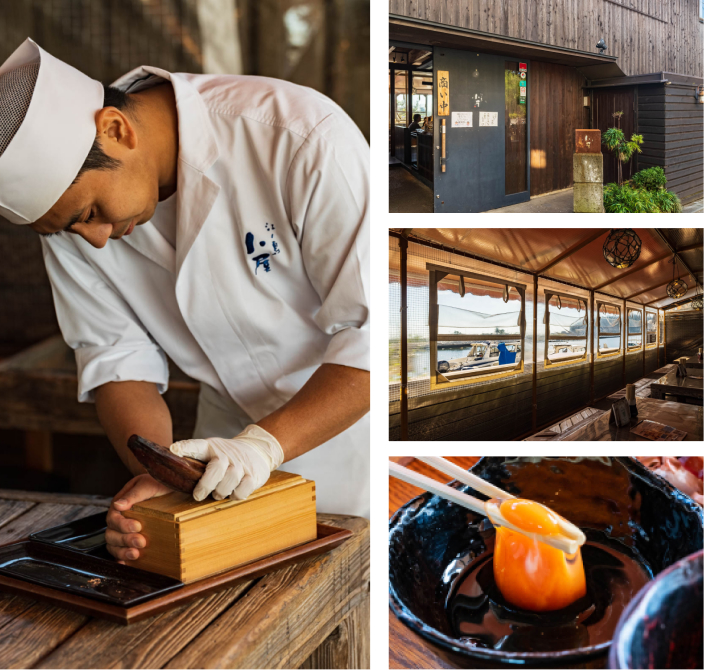 The lunchtime recommendations include a variety of tasty dishes such as "Jiigyo katsu-don with sweet & salty sauce", "Kama-age shirasu-don", and "Horohoro-don", a bowl of homemade smoked fish with charred butter on the top. After much deliberation, I ordered the "Makanai-don". Namenaro," a bowl of rice topped with pounded fish seasoned with miso and the restaurant's original sesame sauce, is the specialty of this restaurant and has won the gold medal in the seafood bowl category of the National Rice Bowl Grand Prix many times.
The fish changes daily, and on this particular day, the main dishes were kanpachi (yellowtail), medallions, and sea breams. 8:00-10:30 breakfast menu items include "Kinmedai no nishiru ogokake gohan" (rice with egg), in which the egg is dissolved in the broth of the kinmedai instead of soy sauce. The semi-raw bonito flakes that are shaved in front of you give off a soft and very pleasant aroma. I was also impressed by the firm egg that did not crack even when I picked up the yolk with chopsticks.
Enoshima Koya
Address

2-20-12, Katasekaigan, Fujisawa-shi, Kanagawa-ken
Tel.

0466-29-5875
Opening Hours

8:00-20:00(L.O.19:00)
Closed

NO
Take a break with matcha green tea and yo-yonkan
Tamaya Youkan
As you exit Enoshima Station on the Enoden Line, you will find Subana-dori, a shopping street lined with restaurants and souvenir shops, including a ramen shop and a pudding specialty store. Located there is Tamaya Honten, a Japanese confectionery with an eye-catching retro appearance.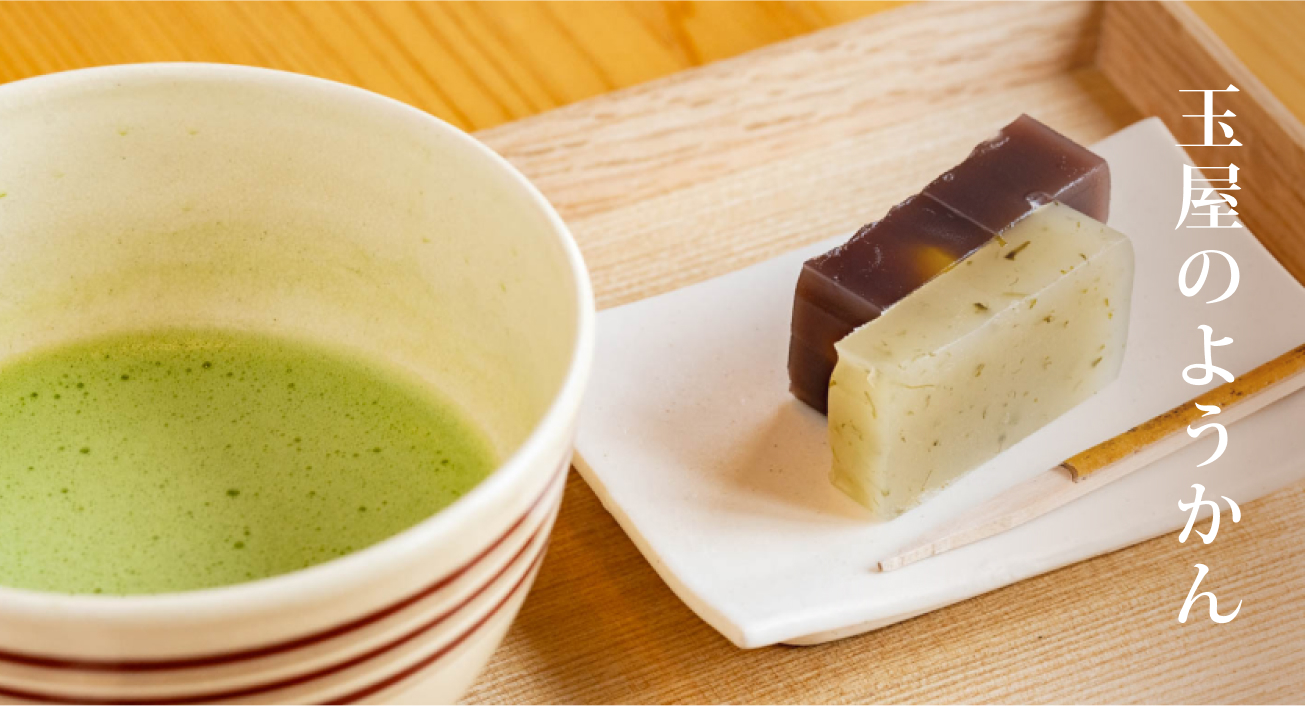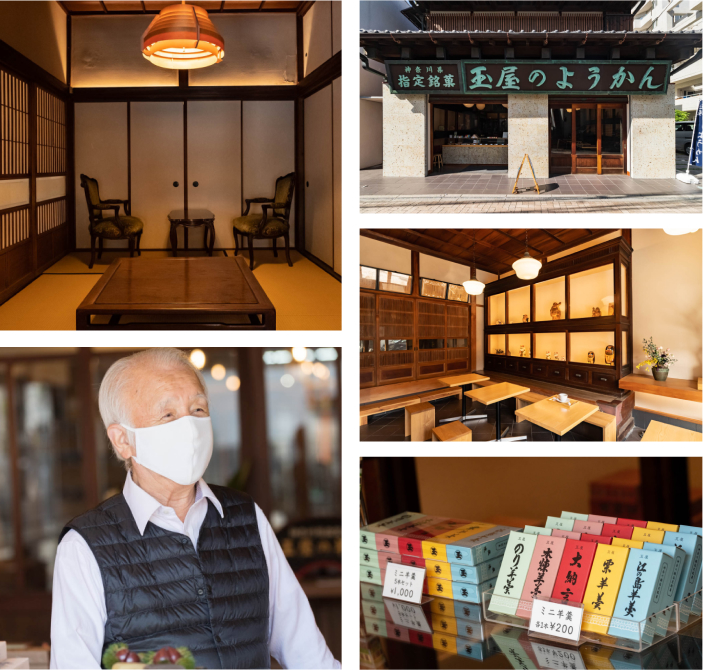 The store is a registered tangible cultural property, boasting a history of over 100 years, and in 1949 was designated as a famous confectionery by Kanagawa Prefecture. Recently renovated, it has been reborn as a fashionable space with a café, while maintaining its historical atmosphere.
At Tamaya Cafe, you can enjoy cold tea, Enoshima cider, cakes, and matcha tiramisu. On this day, I ordered the "Yokan Set" for 600 yen, consisting of matcha green tea for 400 yen and two Yokans of the day for an additional 200 yen. The beautiful green color and deep aroma of matcha tea is soothing. The Yokan in the set are laver yokan and chestnut yokan. Nori Yokan is Tamaya's specialty, made by kneading powdered green laver, which was harvested in Enoshima when the shop first opened, into the white bean paste. It is a rare yokan with a fresh scent of the sea and the sweetness of the refined white bean paste. Chestnut Yokan is a classic with chopped chestnuts. While enjoying matcha green tea and looking around the store, I found a private room in the back.
There is no need to make a reservation for this one, and you can have tea and sweets in this Japanese-style room if it is available at the time of your visit. This is a hole in the wall! Honkuri Yokan, which contains whole chestnuts, is also a luxurious souvenir from Enoshima.
Tamaya Youkan
Address

1-9-10, Katasekaigan, Fujisawa-shi, Kanagawa-ken
Tel.

0466-22-4057
Opening Hours

10:00 – 18:00
Closed

Every Thursday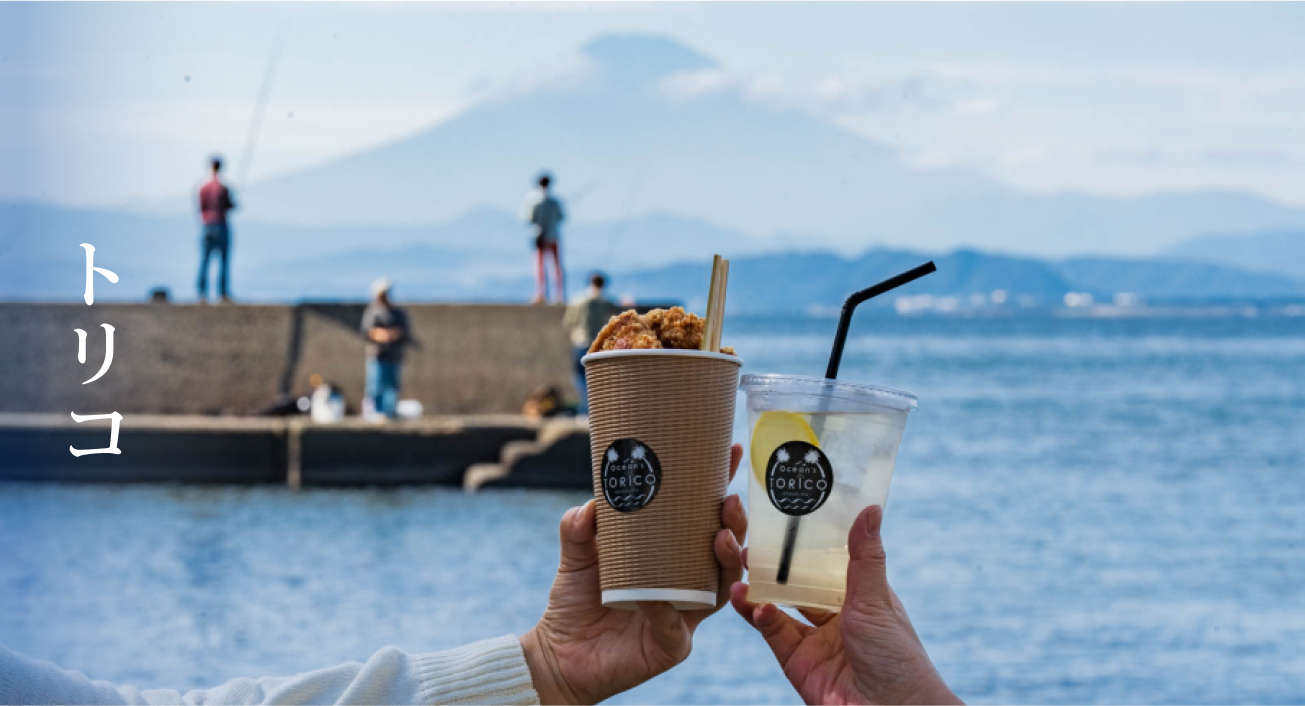 Eating Fried-chicken on Enoshima Island
torico
On the approach to Enoshima Shrine is torico, popular for its fried chicken with original sauce, located at the end of a narrow alley, so be careful not to miss the sign.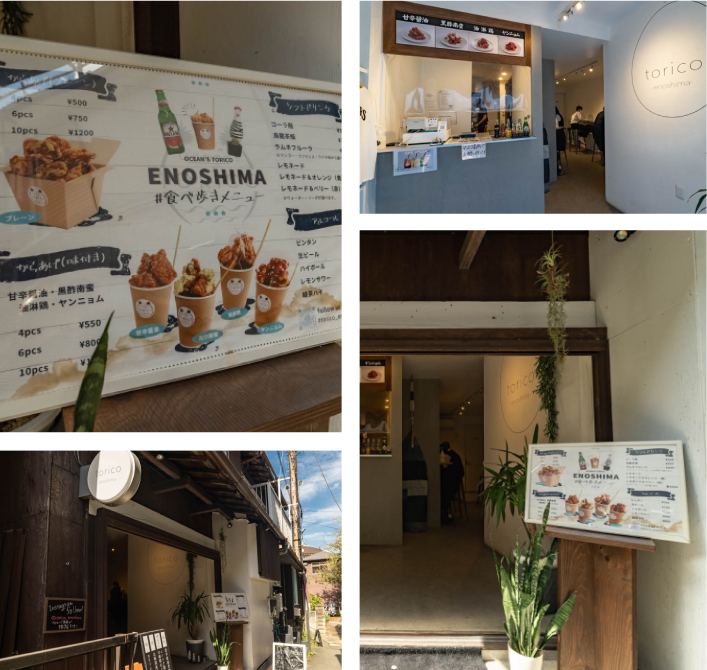 This restaurant uses domestically raised young chicken, mainly from Iwate Prefecture, and has become a hot spot for its fried chicken that tastes great both freshly fried and cold. The chicken is slowly marinated in torico's original sauce, which is based on garlic soy sauce and uses more than 10 spices and fruits. The fried oil is made of soybean white strained oil, and the batter is made of 100% natural potato starch made from Hokkaido potatoes, making it crispy on the outside and juicy on the inside. There are four kinds of sauces available: sweet and spicy soy sauce, black vinegar nanban, oil gonadori, and yangnyom, but this time I ordered plain.
You can enjoy the fried chicken at the counter inside the restaurant, but behind the restaurant is Nishiura Fishing Port, which offers a spectacular view of Enoshima to those in the know, so we grabbed our takeout fried chicken and lemonade and headed to the beach. The fried food was great to enjoy while watching the cruise ships passing offshore.
torico
Address

2-1-14, Enoshima, Fujisawa-shi, Kanagawa-ken
Tel.

0466-54-9799
Opening Hours

11:00 – 19:00
Closed

Every Wednesday
It is located at the top of Enoshima,
LONCAFE
One thing I really wanted to visit on Enoshima is Samuel Cocking Garden, located at the top of the island. It is a lovely park surrounded by trees, plants and flowers, and boasts the best view of Enoshima.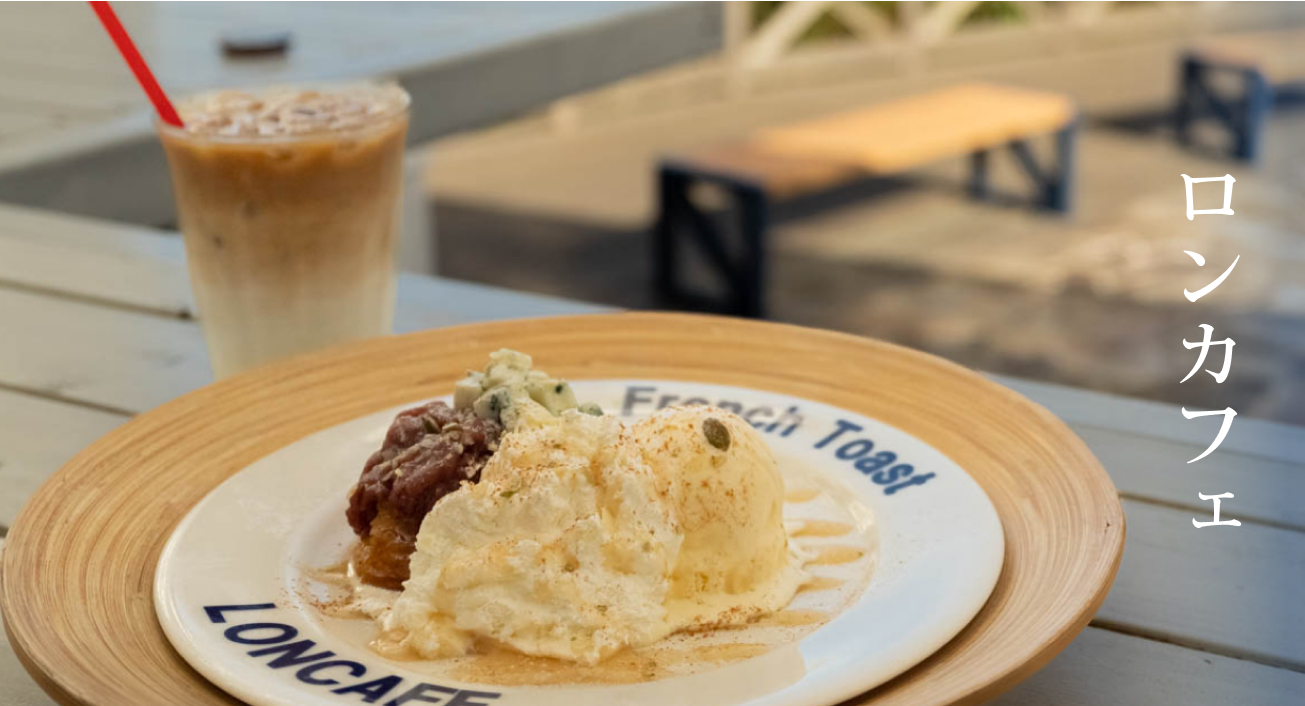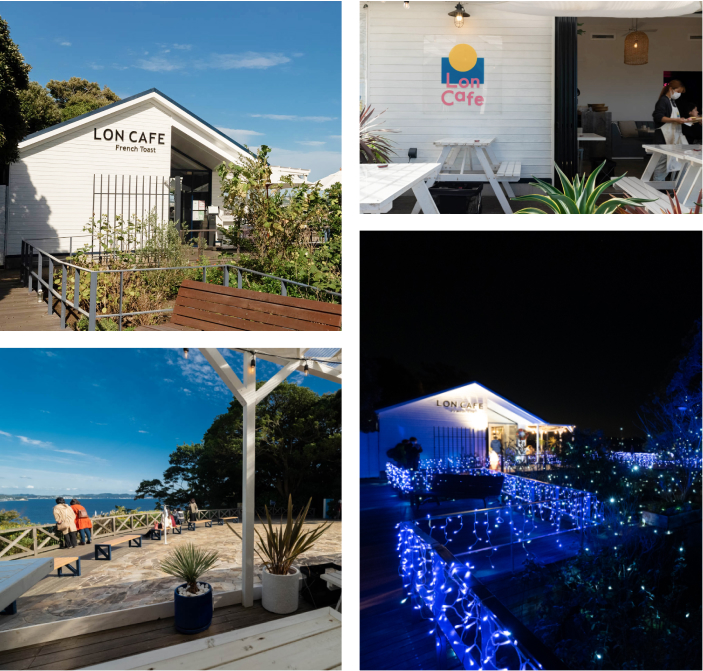 Climb up to the sea candles in the garden for a panoramic view of the Shonan Sea, and relax on the expansive wooden deck terrace on the second floor, where sofas and counter seats are available.
LON CAFE, located in the Samuel Cocking Garden, is recommended for those who love sweets! It opened in 2003 as Japan's first French toast specialty restaurant. It is a fashionable café with a wonderful location overlooking Sagami Bay, where you can enjoy resort time while feeling the Shonan breeze on the open terrace seats.
The French toast boasts a crispy outside and tender inside. The toppings vary, and there are more than 10 tempting choices, including the limited-edition "Black Truffle White Sauce" and "Caramelized Banana," so it was hard to decide, but on this day I ordered the "Apple Pie Filling and Gorgonzola" for 1,450 yen. The sweet stewed apples and salty Gorgonzola cheese were a perfect match. We had a luxurious time.
LONCAFE
Address

Samuel Cocking Garden, 3-38, Enoshima 2chomeme, Fujisawa-shi, Kanagawa-ken
Tel.

0466-28-3636
Opening Hours

Mon – Fri 11:00 – 20:00(L.O.19:30)
Sat, Sun. 10:00- 21:00(L.O.20:30)
Closed

irregular holiday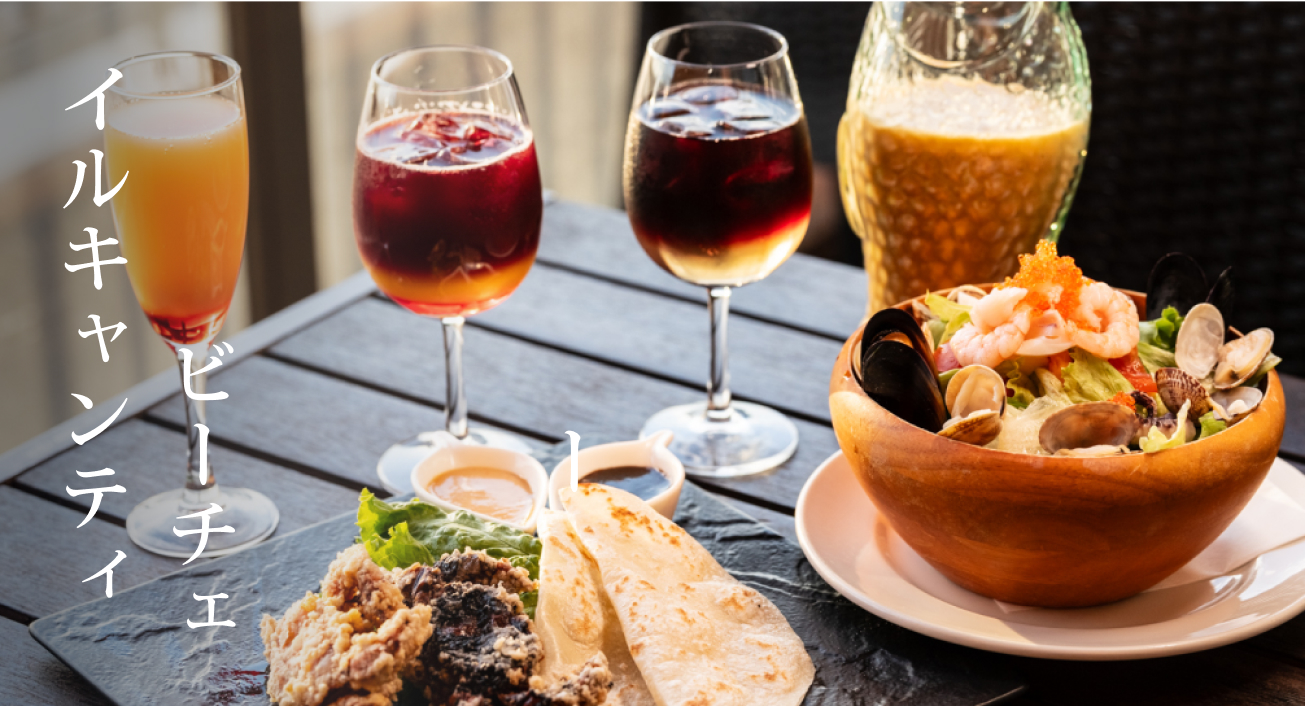 Authentic Italian food on the beach
Il Chianti Cafe
One of the few beachfront restaurants in Shonan. It is popular for its authentic Italian cuisine.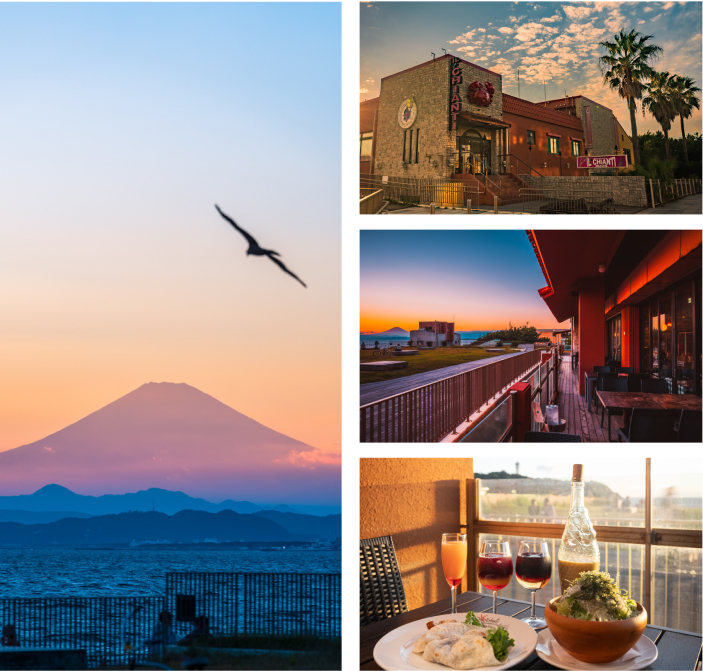 All seats on the beach side have a glass wall overlooking the sea, and on nice days we recommend the terrace seats where the sea breeze is pleasant. In front of you is a wooded park and the beach, where you can enjoy your meal with a view of the ocean. a
There are so many drinks and food items on the menu that it was really hard to decide, but I started with the Caribbean Salad, which is a lavish seafood dish. The restaurant's original dressing has long been famous, but they have apparently developed a less sour dressing to match the taste of the drinks. Next, we ordered the specialty dish, soft-shell crab wrapped in Italian piadina. The freshly molted soft-shell crab was deep-fried and rolled in piadina (unleavened bread from Romagna, Italy) with two special sauces and greens, and eaten with your hands. It was savory and delicious.
Among the dishes that make use of local ingredients, I was interested in the "Roasted Fujisawa Chicken with Fujisawa Vegetables and Herbs" and "Gratin with Fujisawa Chicken Eggs", but decided to order the "Salad with Sea Grapes and Shirasu (baby sardines) from Nagago with Chianti Dressing". Umibudou (sea grapes) are seaweeds that can only be found in Okinawa in Japan, but they have been successfully cultivated in Chogo in Fujisawa City, so we were able to enjoy the fresh and crunchy texture of this seaweed even though we were in the Kanto region.
Just as we were finishing our meal, the setting sun was setting into the sea. The silhouette of Mt. Fuji over the beach at sunset was spectacular.
Il Chianti Cafe
Address

2-20-3, Katasekaigan, Fujisawa-shi, Kanagawa-ken
Tel.

0466-26-0234
Opening Hours

11:00 -23:00(L.O.22:00)
Closed

NO